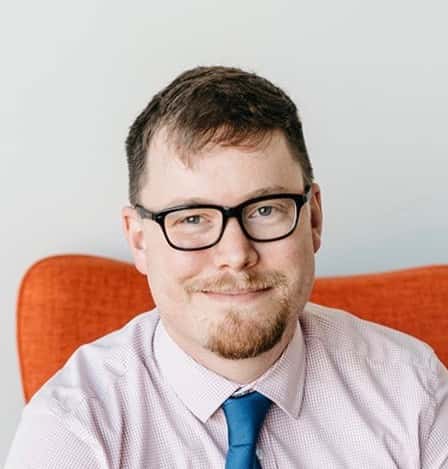 Meet Team Verdis: Brian Harmon
Brian (he/him) is a sixth-generation Seattle-area resident who is passionate about co-creating a thriving future for all. Brian leads our Analytics team to support clients in making science-based decisions. Examples of Brian's work include developing a greenhouse gas inventory covering 4 million Washington residents and supporting 42 stakeholders in crafting a 25-year water conservation plan covering 16 counties and impacting three states.
More recently, Brian developed a consumption-based greenhouse gas inventory and forecasted greenhouse gas emissions under various scenarios for the City of Salem, OR, Climate Action Plan. Brian leads projects with the Seattle Aquarium, First National Bank of Omaha, the Aquarium Conservation Partnership, and other organizations to co-create big impacts by accelerating climate action.
Brian holds a M.S. in Natural Resource Sciences from the University of Nebraska and a B.S. in Fisheries Science from the University of Washington (Go Huskies!). He is particularly interested in the interactions between people and the environment. Brian currently resides on Bainbridge Island, where he serves his community on the Environmental Technical Advisory Committee. Brian's Gallup Strengths are Ideation, Analytical, Intellection, Learner, and Responsibility.
My role at Verdis, in one sentence: I assemble and generate trust in the right data to accelerate climate impact.
My favorite days always include: Water. Thankfully, we live on a blue planet and it's usually not too far away. I love taking my kids tide-pooling at the beach down the street or paddling my kayak.
The best thing I've read: "Cryptonomicon," and honestly nearly every other book by Neal Stephenson. Neal is a futurist who predicted cryptocurrency and the metaverse a decade in advance through complex and tangential storytelling. Each novel is a journey. The book, inspired by the code-breaking of Enigma, dives deep into a number of different mathematical theories. My favorite passage was an extremely detailed description of a massive X-Y grid wherein family members moved objects around to determine inheritance based on standardized perceived monetary and emotional value.
My favorite memory at Verdis: Conducting waste audits. No, really! The work is dirty and sometimes downright gross, but it's a truly hands-on sustainability experience that builds team camaraderie and is the source of many inside jokes on our team. You can't make the world a better place if you're not willing to get your hands dirty.